by Rev. Paul M. Doellinger
"Am I really saved? Am I doing enough? Will God even recognize my good works on Judgment Day?" These sorts of questions are born out of the Law, which always demands and never gives. The Law frightens us: its commands leave us with no excuse and its threats leave us with no escape. Conversely, the Gospel—God's promise of grace—demands nothing of us, but gives everything to us, including our works of righteousness done in faith. It proclaims to us that Jesus has done everything necessary for our salvation; that we are forgiven of our sins for the sake of His vicarious death and resurrection for us, and creates us anew to live before God in righteousness and purity, here in time and for eternity.
Read Galatians 4:1-7.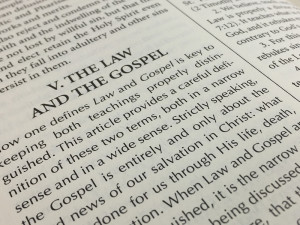 In Baptism God has made you an heir of His kingdom and all the inheritance of heaven. Christ Jesus was born under the Law in order to redeem you from the Law. Now you are no longer a slave to the Law, but are sons and daughters of God. This is faith, in which, as Luther describes, "No Law, no work is demanded here. There is only the Father here, promising and calling me His son through Christ, who was born under the Law…There is no demand here, but only the sigh of the son, who grows confident in the midst of tribulation and says: 'Thou dost promise and dost call me 'son' on account of Christ.'" [6]
The Christian always endeavors to live a godly life and do good works. The question then arises in our conscience: "Will God even notice my good works? Are they good enough?" Justifying faith looks not to itself but to its Lord. This is why the sheep have no recollection of their good works on Judgment Day (Matthew 25:37-40). He who is no longer a slave but a Son will necessarily do the works of the Son, who now dwells in Him. The sigh—even when we don't see or feel it—is now lived out in the life of the believer. Even our good works are gifts of God to us!
When you are terrified by the Law, look to the Gospel. God has sent His Holy Spirit into your heart. By the Gospel of all sins forgiven, the Spirit calls you in order to comfort your terrified conscience. If you want to know how God is towards you, what He thinks of you, then don't look to the Law or your works. The Christian necessarily bears the good fruit of good works because the righteous live by faith. And from now until Judgment Day we are given to trust Christ Jesus and His Gospel. For as Luther says, "The Law says, 'do this,' and it is never done. Grace says, 'believe in this,' and everything is already done." [7]
The Reverend Paul M. Doellinger is pastor of St. Paul Lutheran Church, Cassopolis, MI.
[1]               Luther, Martin. Luther's Works, vol. 26: Lectures on Galatians, 1535, Chapters 1-4 (J. J. 2Pelikan, H. C. Oswald & H. T. Lehmann, Ed.). Saint Louis: Concordia Publishing House, 1963., pg. 362
[2]               Ibid. pg. 364
[3]               Ibid. pg. 371
[4]               Ibid. pg. 389
[5]               Ibid. pg. 388
[6]               Ibid. pg. 390
[7]               Luther, Martin. Luther's Works, vol. 31: Career of the Reformer I (Harold J. Grimm & H. T. Lehmann, Ed.). Saint Louis: Concordia Publishing House, 1957., pg. 41